We spend a significant amount of time with every examination of our patients because of our belief in a holistic approach to eye care. To us, providing specialized vision care means listening carefully to ascertain your visual problems and needs. As my colleague, Dr. Lisa Harvey, (who also specializes in neurodevelopmental optometry) likes to say, "We are opto-sleuths!"
Our commitment to Bakersfield and other nearby communities is to improve overall quality of life through enhanced vision. During your evaluation, we will thoroughly evaluate your visual system for visual system inefficiencies or deficits which are impacting your comfort and ability to function.
Call for an appointment, or call us today at 661.869.2010 to schedule. Please forward your last eye examination results from your primary care eye doctor if you are able.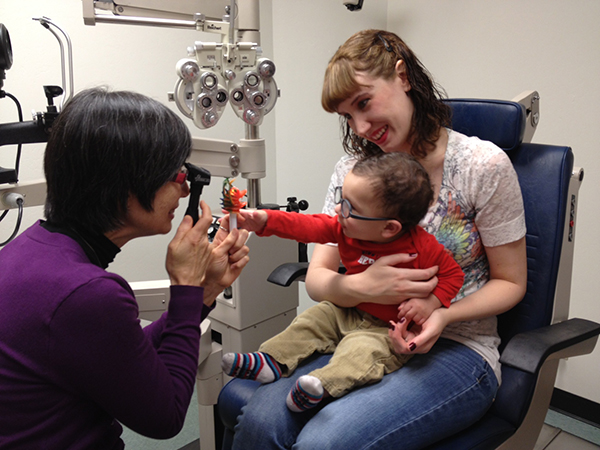 Pediatric and Infant Examinations
Dr. Suter is Board Certified in Vision Development and Vision therapy
All children should have an eye examination before the age of one year. Eight to ten months of age is what we consider "prime time" because eye teaming and focusing should be well developed and infants are easiest to examine at this age. However, an infant should be examined as soon as a problem is noted if eye or vision problems are suspected prior to eight months of age. Small occasional eye turns are common prior to age six months. Any eye turn that happens more than thirty percent of the time, or does not disappear entirely by the age of six months is cause for concern and the child should be seen as soon as possible. Approximately one in fifteen children will grow up with an eyeturn (which is often easy to see) or amblyopia (which is usually not detected until there is an eye examination or screening). Most of these can be prevented with early detection and treatment of causal factors.
Children have different visual problems than adults. If there are any concerns such as headaches; difficulty in school; eye rubbing, blinking, or eye fatigue; general clumsiness; head turns or tilts; or eye turns; the child should be seen by an eye doctor who specializes in vision development and/or vision therapy. Often an eye teaming or eye focusing problem can cause avoidance of school work or reading, even when the child is an average or above reader, because these vision deficits cause near vision work to be uncomfortable.
Visual Information Processing Workup for Reading/Learning Deficits
The Visual Information Processing workup is designed as a primary diagnostic battery for children and adults with learning difficulties. It includes three hours of testing for visual skills required to succeed in the academic setting, including, but not limited to, visual form perception, visual memory, visual sequential memory, tracking, visual motor integration, and other visual integration skills. It includes testing for both visual and phonemic dyslexia. Screening for auditory and language deficits is also included, in order to provide appropriate referral for other deficits that may interfere with academic learning. It is generally administered in one-hour segments.

Intuitive Colorimeter Testing
The Intuitive Colorimeter is used to sample across the color spectrum to find specific wavelength filters (tints) that alleviate or reduce symptoms for patients. Research has demonstrated benefit for difficulties involving visual neurophysiology, including some types of the following: migraine, epilepsy, reading disorder, and post brain-injury symptoms. An intake vision evaluation for eyeglasses prescription, eye teaming, and focusing is required to write a prescription for Intuitive Colorimeter filters. Intuitive Colorimeter testing is included in our Visual Information Processing workup.

Yoked Rehabilitation Prism Testing
Yoked rehabilitation prism can improve balance and coordination in many patients. Frequently patients who "toe walk", veer, run into things on one side, or lose their balance will benefit from having special prisms ground into their glasses to restore a normal perception of visual straight ahead.
Visual Evoked Potential Testing
Visual Evoked Potential testing can be done to examine the brain response to simple visual stimuli, such as checks or gratings. It can be used to estimate visual acuity (the level of detail vision) in patients who are unable to otherwise respond or who need objective evidence of vision for legal purposes. It is also used for other applications to examine the health of the pathway of each eye to the primary visual cortex.

Post Stroke/Brain Injury Workup
The Post-Brain Injury Vision evaluation is a two to three hour assessment. The testing included is determined by the history of the brain injury, and may include some or all of the other special testing described above. It is very common for patients to be unaware of their vision and visual processing deficits following brain injury, so we typically test all of the following areas:
Eye examination—are glasses needed; are the eyes healthy; are the eyes tracking and focusing correctly at near; and are the eyes working together as a team
Peripheral vision
Spatial awareness and visual affects on balance—sometimes special prisms can be worn to help with balance and walking
Visual-motor skills
Visual memory
Visual form perception and visual perceptual speed
Contrast sensitivity—are the patient able to see in dim lighting and or foggy conditions
Intuitive Colorimeter test to see whether specialty tinted lenses will help with comfort and any feelings of dizziness or disorientation
Dr. Penelope S. Suter and staff are proud to serve patients in Bakersfield as well as surrounding communities such as Arvin, Delano, Frazier Park, Lake Isabella, Lamont, Lancaster, Palmdale, Porterville, Shafter, Taft, Tehachapi, Visalia, Wasco, and many more. Our services include, but are not limited to, diagnosis and treatment of vision issues that result in reading, spelling, and other learning deficits, as well as vision dysfunction that results from autism spectrum disorder, brain injury, or other neurological compromise. Treatment may include lenses, prisms, colored filters, vision therapy, and post brain injury vision rehabilitation.