There have been ongoing talks and research regarding the safety of sport athletes and the risks associated with sport-related head concussions. Several schools and sport teams have initiated the King-Devick Test as part of each athlete's evaluation, while many others have not. The King-Devick Test is an effective tool that evaluates rapid eye movement and attention.
This past month, there was an announcement that Mayo Clinic will officially administer the King-Devick Test as a sideline concussion test for athletes who may have exhibited a concussion during play. If you would like to know more about the announcement, please refer to the article below.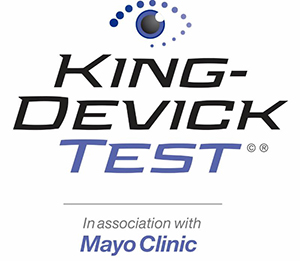 Mayo Clinic and King-Devick Test Announce Licensing Agreement to Sideline Concussion Testing
Phoenix, AZ – Concussions are in the national spotlight for the damage being done to student and professional athletes. Determining when an athlete should be removed from play is a major challenge in preventing injury. Athletes routinely deny symptoms. The CDC estimates that between 1.6 and 3.8 million students have concussions every year. In an effort to bring both awareness and increase screening, Mayo Clinic has agreed to a licensing agreement with King-Devick Test Inc, which has developed a proven indicator of ocular motor, visual and cognitive function for concussion detection and evaluation on the sidelines of sporting events to help with the decision to sideline athletes to prevent injury.
Under the terms of the agreement, the King-Devick Concussion Screening Test will be formally recognized as the King-Devick Test In Association With Mayo Clinic. The King-Devick Test is a quick, accurate and objective concussion screening tool that can be administered on the sidelines by parents, coaches, athletic trainers, school nurses and medical professionals.
"Studies have indicated that the King-Devick test is an effective tool for the real-time evaluation of concussion because it looks at rapid eye movement and attention – both are affected by concussions," says David Dodick, M.D., Mayo Clinic neurologist and director of Mayo Clinic's concussion program. "Most importantly, the test is affordable and can easily be used by any youth sports league, and administered by non-medical personnel. And youth athletes are at a higher risk for concussion and a longer recovery time than adults."
"It's a privilege to be associated with the premier health care brand in the world," says Steve Devick, Founder and CEO of King-Devick Test. "This agreement will help us accomplish our goal of having a tool on the sidelines to help determine 'remove from play' for athletes to prevent further injury and be referred to qualified professionals for follow up care."
The test requires an athlete to read single-digit numbers displayed on cards or tablet computer. After suspected head trauma, the athlete is given the test, which takes about two minutes, and the results are compared to a baseline test administered previously. If the time needed to complete the test takes longer than the baseline test time, or if the subject shows any other symptoms of a concussion, the athlete should be removed from play until evaluated by a medical professional. A new baseline is required annually.
Peer reviewed published research has shown that The King-Devick Test requires eye movements, speech, language, and concentration, all of which can be impaired as a result of concussion. Recently more than 20 studies showing the effectiveness of the test as a quick, objective and accurate "remove from play" sideline test have been presented or published in elite scientific journals. Numerous other recent studies have been published regarding King-Devick Test as it relates to MS, Parkinson's disease, ALS, hypoxia, extreme sleep deprivation and reading fluency. Under the agreement, Mayo Clinic will provide ongoing medical consultation in future development of the test.
The King-Devick Test has also been proven to detect un-witnessed, un-reported and "silent" concussions in athletes.
"Although concussion awareness has been a trending hot media topic at the professional and collegiate sport levels, more information must be disseminated to the high school and youth levels, Dr. Dodick added. "Concussion guidelines are rapidly changing. Just a few years ago, athletes were expected to 'shake it off' and continue to play after suffering a concussion or a 'ding.' Today, we now know that it is unsafe for any athlete to return-to-play the same day they have suffered a concussion, and it is recommended that every athlete not return-to-play until they have been cleared by an appropriate professional."
Recently Neurology Review listed a King-Devick article as one of their Top News Articles for 2014.
###
About King-Devick Test, LLC
The King-Devick (K-D) Test was developed more than 30 years ago and has been used worldwide as a proven indicator of saccadic eye movements as they relate to reading, using Rapid Number Naming. Elite neurological journals have called the King-Devick Test an "accurate and reliable method for identifying athletes with head trauma." Other studies have proven King-Devick Test to help determine neurological functionality in: Parkinson's disease, Multiple Sclerosis, ALS, extreme sleep deprivation, and hypoxia. For more information, visit: www.kingdevicktest.com
About Mayo Clinic
Mayo Clinic is a nonprofit organization committed to medical research and education, and providing expert, whole-person care to everyone who needs healing. For more information, visit http://mayocl.in/1ohJTMS, or http://newsnetwork.mayoclinic.org/.
King-Devick Test® (K-D Test®) All rights reserved. © 2014, 2013, 2012, 2011, 2010, 1983, Patent-Pending. Two Mid America Plaza, Suite 110, Oakbrook Terrace, IL 60181. Phone: 630.501.0281